Ibiza Internet Guide Links
Looking to enjoy year round sunshine, perfect beaches and crazy nightlife? You've come to the right place!
Welcome to WhatIbiza, your comprehensive Ibiza travel guide with up-to-date and accurate information on all things Ibicencan! Whether you are planning to live, work or holiday on the beautiful 'White Island' of the Balearics, we're here to help you plan your trip and get thoroughly prepared.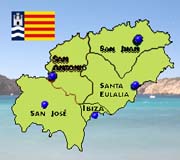 Learn here about Ibiza's unique and mysterious history.
Culture & the Arts
Get cultured in Ibiza! Find out about the island's best museums, most famous theatres and liveliest festivals. As well as the rise of dance music on the world's most crazy clubbing island. Read more
Trips from Ibiza
Fancy taking a trip from Ibiza? While you're here you may as well explore the other stunning Balearic islands! We've got the scoop on where to go, what to do and how to get there. Read more
How to Use this Guide
Our Ibiza travel guide is broken up into six easy-to-manage chunks to help you get orientated. They are jam-packed with original information on everything you could possibly want to know about Ibiza. Explore the island's urban hangouts, top beaches and coolest clubs. Learn about what's hot and what's not in Ibiza's thriving arts scene and when the best fiestas take place. Get the lowdown on typical Ibizan cuisine and the island's finest restaurants. All this and much more...so what are you waiting for? Dive in and get exploring!