Once you've made the most of Ibiza, you may want to explore the capital of the Balearics and travel to Mallorca. There are regular Balearic Island ferries to make the journey quick and simple and on a fast ferry it takes just 2 hours between islands.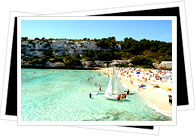 Mallorca is not only the autonomous capital but is also the largest island in the Balearics with a long standing cultural heritage and a lot of well preserved traditions. On the one hand, Mallorca is famous for its busy, built up resorts which line much of the coastline and are inundated with German and British sun-seekers every summer. Whilst on the other hand, Mallorca also contains thriving Spanish cities, charming towns, an impressive mountain range and idyllic landscapes. Such diversity within 3640 km² means that travelling to Mallorca is an exciting and memorable trip for any visitor and shouldn't be missed!
Travel to Mallorca: Highlights
Palma de Mallorca - A million miles from the package tourist's perception of Mallorca (which tends to consist of German sausages and beer), Mallorca's dazzling capital is a pleasure to explore with a really special vibe. Home to 300,000 people (almost half the island's population), Palma is a buzzy hub of artistic flair with pretty building lining every corner, great museums and an addictive ambience. The main attraction is the massive gothic cathedral which can be seen from all over Palma, it's carefully carved, sandy coloured exterior making a wonderful backdrop to the city. Inside you will find some surprisingly modern touches added by Barcelona's architectural legend, Antonio Gaudi. Also worth seeing are two palaces, the Palau March and Palau de l'Almudaina and the new Contemporary Art Museum is well worth a visit. You could easily fill a few days in Palma as after you've seen the tourist hotspots there are endless bars and restaurants to enjoy. Dining along the waterfront by night and gazing p at the spot-lit cathedral as you sip a glass of wine is an unbeatable holiday highlight.
Serra de Tramuntana - If you travel to the north of Mallorca you will find the dramatic craggy cliff faces of the Sierra de Tramuntana. This is the most wonderful place to head if you enjoy hiking as the landscapes are raw and undeveloped, giving you a real sense of freedom. Trails vary in difficulty so make sure you attempt one suited to your ability and avoid long walks in the height of the summer when temperatures reach boiling point. You can also dip in and out of traditional villages or find hidden coves in this less developed quart of the island.
Parc Natural de S'Albufera - Wildlife fanatics should head straight to this extremely pleasant reserve where you can admire a wide range of flora and fauna. In particular, bird lovers will be in their element with over 200 species fluttering around the park.
Hillside Villages - If highrise hotels aren't your style you will be in heaven with Mallorca's array of charming little villages tucked away amidst the hills. Sóller is a popular choice and the best place to stay if you plan to hike around the Serra de Tramuntana. Deià is another popular choice and has visitors enchanted time and again, it also has one of the prettiest bays on the island, the Cala de Deià. Head to Pollença for some excellent island vistas from the hilltop chapel and some souvenir shopping at the Sunday market. Also, make time to drop in on the impressive monasteries at Valldemossa and Lluc.
Beaches - Last but not least, one of the main draws to Mallorca, and indeed all the Balearics, is the huge number of beaches. Mallorca alone has 550km of glorious coastline so whether you are looking for busy beaches with watersports and bars or a chilled out cove to laze around in, you'll find it somewhere along the way. Head to the east coast if you're in search of mass tourism. Find glitz and glamour on the southwest coast at Port d'Andratx or Sant Elm and head to the Cala de Sant Vicent if you're want true tranquility.