Another of Ibiza's most popualar resorts is Santa Eularia d'es Riu (also known as Santa Eulalia d'es Riu). Located on the east coast of the island, Santa Eularia is a popular choice for families or those in search of a more chilled out break.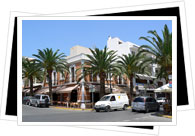 Located 15km from Ibiza Town, Santa Eularia is far enough away to deter the clubbers, but near enough to Ibiza airport to make it easily accesible for those heading there.
Regeneration of the town centre has led to a lot of development in Santa Eularia in recent years. The newly constructed beach front promenade has tidied up the town somewhat, however, Santa Eularia's popularity has led to mass construction of large luxury hotels and apartment blocks. Whilst the majority have been more nicely designed than the concrete blocks which line some beach resorts, the number of windows facing the beach succesfully destroys any hope of feeling secluded whilst you take a dip.
However, if its beach action you're after then in addition to the busy beach in the town itself, Santa Eularia has lots of beautiful little sandy spots to discover if you fancy getting out the town.
Santa Eularia is also a region full of culture and history - you can explore the charming old town or barter in Ibiza's infamous hippy markets. If you're not in search of all night clubs but aren't opposed to sipping a cocktail on a warm night after a good meal, Santa Eularia has some good options. Once again, the newly revamped beach front doesn't quite cut it and most of the eateries are more cheap and cheerful rather than sleek and classy. But if you dig a little deeper there are some great spots for quality dining (especially fish) and lively bars.
Check out our Santa Eularia Highlights page for more information.