Ibiza food draws on the island's rich history and diverse culture to produce cuisine which is sure to suit all tastes, ages and budgets.
In popular coastal resorts you may find traditional British and German restaurants which serve up comforting home style classics to the hoards of tourists that arrive on the island in the summer months, many of whom are British and German. However, these summertime tourist pleasers are generally closed outside high season.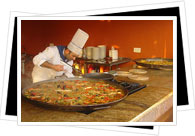 Tasty, traditional Spanish dishes are in abundance on a typical Ibizan menu. All the staple Spanish classics like Gazpacho (cold tomato soup) and Paella (saffron flavoured rice with vegetables/chicken/seafood) are widely available all over the island. Similarly, if you're partial to a bit of tapas, then you'll be pleased to hear you can indulge in Ibiza just as you would on the Spanish mainland. Tapas is a very social way of eating and traditionally forms the evening meal which takes place very late (not usually before 10pm). Families and groups of friends gather to 'picar' (literally 'nibble at') a selection of yummy little dishes. Seafood options come highly reccommended when in Ibiza, so make sure you include delectable delights like 'calamares' (fried squid) and 'gambas al ajillo' (garlic prawns) in your order.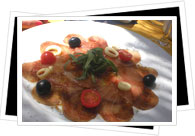 Seafood in general is a must when sampling Ibiza food as it is all freshly caught without costing a bomb. Typical fish meals are served very simply, allowing you to truly relish the taste of the fish, which is normally just accompanied by potatoes and salad. You may also wish to try a local fish stew, known as 'Zarzuela', to get a taste of the best fish Ibiza has to offer.
More specific to the Balearic Island region are a few tasty treats that are not so common on the mainland. Balearic sausages, 'Sobresada' (blood sausage') and 'Butifarra' are the most famous ones and are definitely worth a try if you're not adverse to a bit of meat. You should also try Sofrit Pages, a truly hearty Balearic Island stew made from deliciously spiced lamb, pork, chicken, sausages and potatoes.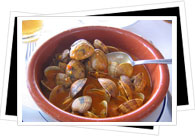 Ibiza food also contains some great treats for those of you with a sweet tooth. Most famous of all is the Ensaïmada de Mallorca. This sugary treat is widely available throughout the Balearic Islands and makes the perfect end to a perfect Ibizan meal. Ensaïmadas are made from a light pastry that can be filled with chocolate or cream, or just eaten plain with sugar dusted on top.
Another tasty pudding which is unique to the island of Ibiza is Flao. If you like cheesecake, you'll love this - it is a mediterranean take on the American classic made with fresh cheese, mint, aniseed and honey. The taste is overall more herby than you may be used to, but it is definitely worth a try.
Almonds are another stock ingredient in any Ibiza dessert and you shouldn't leave without sampling a slice of scrumptious Gató d'Ametlla (almond cake) or a few scoops of almond ice cream on a hot day.
Got you tastebuds tingling? Check out our Ibiza drinks page and find something to wash all that delicious food down with!