Ibiza drinks are varied and perfect for washing down a tasty meal. Pretty much anything is available in Ibiza, with respect to wine, liquor and soft drinks, however there are a few specialities that you should give a try while in the region.
Frígola
This a traditional Ibizan drink taken after your meal alone or with ice. It has a strong herby taste and is made primarily from thyme.
Hierbas Ibicencas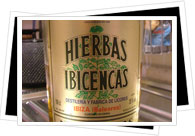 Hierbas Ibicencas or 'Ibizan Herbs' is a traditional Ibiza drink made from a variety of herbs and plant extracts found in Ibiza. It is said to contain 18 different plants, however, the most prominent tastes are aniseed, lemon, orange and thyme. In addition to aiding digestion this after dinner tipple is believed to have healing powers - we'll let you judge that for yourself though...
Palo
Typically an aperitif to wet your appetite before a hearty Ibizan meal, Palo is a dark liquor made from the Quino Calsaya plant. Traditionally used as a medicine, the powerful taste of the drink is sweetened with caramelised sugar.
Sangría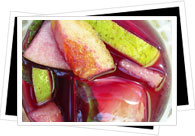 Although not strictly speaking a unique Ibiza drink, this Spanish favourite is found all over the island and makes a perfect refreshment on a warm day. Sangría is generally made from red wine, sugar, lemonade, chopped fruit and a mixture of liquors - the exact quantities and combinations differ from bar to bar. Each barman has his own secret recipe and it is very difficult to find out exactly what he has added to make his sangría so delicious.