Shopaholic? In search of souvenirs? you'll find what you're looking for when shopping in Ibiza.
If you are looking to shop till you drop in trendy boutiques or cheap and cheerful clothes shops then your best bet is to get down to Sa Penya in Ibiza town. It is quite incredible that as well as having a vast array of class bars, it is also home to some great shops. The perfect place to do your Ibiza shopping.
However, if you're in search of a real bargain or something made locally in Ibiza then you can explore the island's infamous hippy markets. There are markets throughout the week so you can be sure to catch one of them. The biggest and most popular are in Es Cana and Las Dalias.
Ibiza Shopping: Las Dalias Hippy Market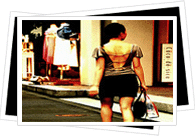 This market is fairly sizeable with a good range of stalls. It is one of the most authentic in Ibiza and runs year round, rather than just as a summer time tourist pleaser. Set in one of Ibiza's coolest restaurants, Las Dalias is a rainbow coloured maze of market stalls. Local artesans are keen to sell you their handicrafts but you can also pick up music and clothes at this excellent little market. Be warned though - it is a popular choice, so if you don't fancy facing the crowds pop along to the smaller version on Monday nights.
Where? San Carles de Peralta, nearest big towns: Santa Eularia and Portinatx
When? Saturdays 10am-20pm (summer), 10am-18pm (winter)
Monday Evenings.
Ibiza Shopping: Es Cana Hippy Market
This is Ibiza's biggest hippy market and it happens every Wednesday during the summer. The truth be known this hippy market is a long way from what it was in the seventies when flower power was truly the order of the day. But whilst the Es Cana market has become somewhat commercialised and tourist orientated, that does not mean it is not the perfect place to pick up some souvenirs. You can buy pretty much anything from gold and silver, trinkets and textiles to jewellery, arts and leather goods. Despite the influx of tourists, shopping here feels quite relaxed due to the soft beat of bongos courtesy of the 'hippies'.
When? Every Wednesday from May through October, 9.30am-19pm
Where? Punta Arabí, Es Cana, just north from Santa Eularia