If you're looking for good food then you're in for a treat with Ibiza's restaurants. The main thing to avoid are the very over touristed areas where quality takes second place to serving the masses quickly and cheaply. The somewhat tacky beachside restaurants that you may find in San Antonio de Portmany or Santa Eularia are what many visitors to the island think sums up Ibiza food . However, there are many great Ibiza restaurants to be discovered, from exclusive eateries to traditional tapas bars. Most of the top Ibiza clubs like Pacha and El Divino also have their own restaurants, meaning you don't even have to leave the clubs to eat!
Many restaurants close on Mondays so it's worth ringing beforehand to be sure. Check out our listings for the island's best spots:
Ibiza Restaurants Listings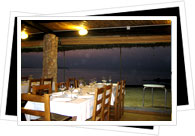 Bar San Juan
Family run, traditional Spanish cuisine
Address: Carrer de Guillem de Montgri 8, Ibiza Town
Tel: (0034) 971 31 16 03
Cala Mastella
Exquisite fish restaurant hidden away in this secluded cove - you must book in person the day before you plan to eat there.
Address: Cala Mastella, near Santa Eularia.
Ca'n Alfredo
Popular with the locals, this is the perfect place to try some traditional fare.
Address: Passeig de Vara de Rey 16, Ibiza Town
Tel: (0034) 971 311 274
El Ayoun
Tasty moroccan cuisine in this stylishly designed restaurant-come-chill out lounge. A favourite with clubbed out clubbers - make sure you reserve.
Address: Carre d'Isidor Macabich, San Rafael, between Ibiza Town and San Antonio de Portmany.
Tel: (0034) 971 198 335
El Naranjo
Brilliant seafood in a pretty setting.
Address: Carrer de Sant Josep, Santa Eularia
Tel: (0034) 971 330 324
Es Boldadó
Perfect views and seafood in this lovely restaurant.
Address: Cala d'Hort, southwest Ibiza near San José
Tel: (0034) 626 494 537
Es Xarcu
You may think this is just a beach bar but Es Xarcu serves up some of the best seafood in Ibiza
Address: Cala es Xarcu. 9km from Sant Josep de Talaia, 13.5km from Ibiza Town.
Tel: (0034) 971 187 867
La Brasa
Great mediterranean fusion cuisine with a beautiful terrace.
Address: C/Pere Sala 3, Ibiza Town
Tel: (0034) 971 301 202
La Vitoria
Tasty, traditional cuisine
Address: C/Riambau 1, Ibiza Town
Tel: (0034) 971 310 622
Las Dalias
From a traditional tapas bar to cellar restaurant, pizzeria and tea shop, this place has got it all. It also houses the Saturday hippy market of the same name.
Address: Carretera San Carlos Km 12, 97840
Nearest Towns: Santa Eularia and Es Cana
Tel: (0034) 971 326 825 / www.lasdalias.es
Sa Capella
A romantic getaway just outside San An, Sa Capella is the perfect spot to enjoy quality seafood whilst gazing into your loved one's eyes.
Address: San Antonio de Portmany, 07840
Tel: (0034) 971 340 057
S'Ametller
One of Ibiza's most highly acclaimed restaurants, this is the place to go for gourmet experimental cuisine in Ibiza town.
Address: Carrer de Pere Francesc 12, Ibiza Town
Tel: (0034) 971 311 780