Ibiza Town, or 'Eivissa', is likely to be your first stop when visiting the island. And what a memorable stop it will be! Ibiza's exciting and vivacious capital has got it all, and some more - from the uber famous club scene that attracts armies of danceaholics each summer to the endearing Spanish traditions still alive and kicking in the old town. Need I mention the beaches?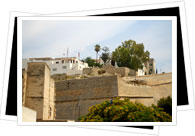 Budding clubbers need no persuading that Ibiza town is an attractive and perfectly located city to make the most of Ibiza's nighttime sights, however, those of you in search of something a bit less hectic may be inclined to overlook the destination. Let me suggest you look again - Ibiza town is home to some sleek hotels, attractive beaches, high quality restaurants and fascinating cultural landmarks.
Those of you that know what you're coming for and that involves a week or two of true exuberance strutting your stuff with fellow fashionistas, toned, tanned and raring to go, Ibiza town is also an obvious spot. In addition to killing the night before wiling away the days on party beaches, the new town offers affordable accommodation (as well as some rather VIP options like the Pacha hotel) and there is a cheap all night Disco Bus to ferry you to clubs outside the city.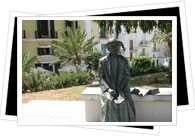 But this very same destination can offer small town traditions, pretty architecture, majestic views, family friendly beaches and hidden coves for those of you that want to get away from it all. Ibiza town is also the site of many interesting cultural festivals which occur throughout the year - check out our Festivals Ibiza page for more information. It is also worth bearing in mind that Ibiza's fame for being a haven for hot-blooded hedonists can only be applied during the summer months (June-October) - the rest of the year Ibiza town is a relatively relaxed spot to holiday in.
Never has one destination been so generous in catering for all tastes - Ibiza town is definitely worth dedicating a good chunk of time to exploring, as whatever you hope to get out of Ibiza, you are sure to find a good part of it here.
Follow the link for the lowdown on Ibiza City Highlights.