Totally different from Ibiza's other main resorts, Portinatx is the perfect place to head if you want to avoid the troops of clubbers and make the most of the 'other Ibiza' - idyllic vistas and hidden beaches without the thud of a bassline forming the soundtrack.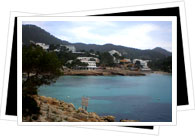 Whether you're all clubbed out, looking for a romantic retreat or an ideal destination for a family holiday - Portinatx is Ibiza's prime spot. Being a popular resort it has most amenities, but developers have taken care not to ruin the area with lots of unsightly highrises. Whilst Portinatx, tends to be frequented by a less party-crazed crowd, that is not to say it is empty - especially between June and September when it is constantly alive with the buzz of holidaymakers.
Portinatx, Ibiza is perfectly positioned on the northernmost point of the island to facilitate your exploration of the northern coastline. There are dozens of perfect little bays to be discovered, good restaurants to enjoy and sporting opportunities to be had in this beautiful part of Ibiza..
Sound up your street? Read our Portinatx, Ibiza Highlights to find out more...