Ibiza Water Parks
A holiday in the sun is not complete without a trip to a waterpark and Ibiza has plenty of choice. Kids and adults alike can spend a day screeching with delight as they shoot down slides and splash about in pools. It's a great idea for families or groups of friends who fancy a change from the beach.
Ibiza has two water parks, both very close to Ibiza town but easy to get to from any part of the island. Check out our reviews to decide which is best for your needs:
Aguamar Water Park, Ibiza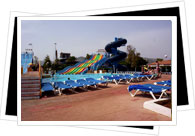 The island's biggest and baddest waterpark is undoubtedly Aguamar. Situated in Playa d'en Bossa, Aguamar is a quick 15 minute trip from Ibiza Town and buses leave regularly, if you don't have a car. Located just behind Ibiza's legendary Space nightclub, Aguamar is a popular choice for adults and kids. There is such a big variety of slides to keep all ages entertained all day long. You can bring a picnic or make use of the massive choice of restaurants and cafés in the park. This is definitely the best choice for clubbers who fancy a break from dancing or families who want a bit more action.
Aguamar Water Park
Playa d'en Bossa, Ibiza
Tel: (0034) 971 300 671
Open between mid June and October
Entrance fees vary (family, children, concession...)
Agualandia Water Park, Ibiza
Agualandia comes more highly recommended for families with small children as the slides are smaller and less varied. There is still plenty of space for onlooking parents to picnic, sunbathe or grab a bite to eat. Agualandia is in Talamanca, just north of Ibiza town and makes a nice trip from Talamanca's family friendly beach.
Agualandia Water Park
Talamanca, Ibiza
Tel: (0034) 971 190 661
Open between June and October
Entrance fees vary