If you want to make the most of Ibiza's beautiful coastline then you should check out the possibilities for water sports in Ibiza. Whilst many people are content with a quick dip in the sea, some of us prefer to get our adrenaline racing with some sports. The great thing about Ibiza is that there is something for everyone.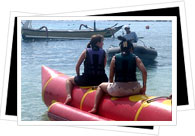 Whilst the quieter, more secluded Ibiza beaches make up for in tranquility what they lack in amenities, the larger beaches are buzzing day and night with activities to suit all ages.
Rent a pedalo for some beach relaxation or jet around the port on a banana boat or donut. You can easily have a go at waterskiing or parasailing in the bigger resorts or ofcourse, there is always a traditional bit of swimming.
For a whole range of water sports in Ibiza from rafting to jetskiing visit www.ibizawake.com where you can book yourself in for a day full of fun filled activities.
Click on the links below to find out about more watersports in Ibiza: