San Antonio de Portmany is Ibiza's second largest resort and literally overflows with visitors between June and September every year.
For relaxation, solitude and authentic Spanish culture, please be warned that this is not the destination for you. However, if you're looking to party with an up-for-it crowd (almost entirely British), then San Antonio de Portmany - 'San An' as it is known by those who love it - will be like heaven.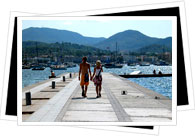 Aesthetically, San Antonio de Portmany lacks the charm of Ibiza Town, as many of the buildings are new high rise hotel blocks filled with package deal punters. Nonetheless, the town has seen huge investments in recent years as the council has attempted to regenerate the urban centre and make it more attractive and stylish. The main promenade has been tidied up and lined with palm trees, an artificial beach has been created right in the centre of the town and tons of trendy new bars have opened in an attempt to inject some of that Ibiza Town chic into San An's cheap and tacky façade.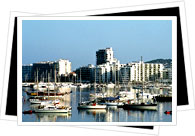 Nonetheless, San Antonio de Portmany is getting better and if you want a well located destination (just a 20 minute bus ride from Ibiza Town), with nice beaches nearby, crazy nightlife and infamous sunsets then San An could be just the place for you. If you decide to visit San Antonio de Portmany just outside of high season (May or October) you will find a more laid back vibe and a less exaggerated foreign invasion, however, in the winter months there is very little open in this part of Ibiza.
Check out our San Antonio Ibiza Highlights to find out more...