If you fancy getting out the sun or escaping the madness of the clubs to munch on some popcorn, you should check out one of the many Ibiza Cinemas.
There are several big cinemas around the island where you can catch anything from the latest Hollywood blockbuster to a lesser known arthouse film. In the more touristy areas you are also likely to find films shown in V.O (versión original) - perfect if your Spanish isn't too hot.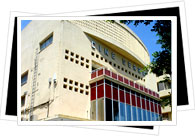 Ibiza also holds the annual 'Ibiza and Formentera International Film Festival' a very interesting event if you're into your movies. The festival normally takes place between May and June and attracts actors, directors, scriptwriters and fans from all over the world. Films from Europe, North America, South America, Asia and Africa are nominated each year. Check out the official website for more information: www.ibizaiff.org.
Ibiza Cinemas
Cines Serra
Address: Pg Vara de Rey 6, 07800 Ibiza Town
Tel: (0034) 971 311 471
Multicines Ibiza
Address: Cubells, 07800 Ibiza Town
Tel: (0034) 971 315 211
Cine Regio
Address: Barca 5, 07820 San Antonio de Portmany
Tel: (0034) 971 341 006
Cine Torres
Address: Bisbe Torres 2, 07820 San Antonio de Portmany
Tel: (0034) 971 346 400