So, you've partied till dawn in Ibiza and just want a bit of peace and quiet away from the masses? Look no further, it takes a mere 30 minutes to travel to Formentera by boat and this little gem of an island is just what you need to recharge those batteries when you've run out of steam.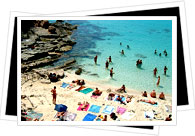 Formentera is not as isolated and undeveloped as it once was, but the lack of totally colonised areas packed with highrises and the authenticity of the restaurants makes a refreshing change to other parts of the mediterranean coast. Formentera was left uninhabited between the fifteenth and seventeenth centuries and even today with its population of around 8000, it is easy to find yourself a quiet spot to chill out in.
Much of the island is closed during the winter, but between May and October is springs to life and cool beach bars, excellent fish restaurants and the few accommodation options open their doors to the summer time visitors. Unlike the other Balearics, Formentera tends to be more popular with Italians rather than Brits and Germans. The Italian idea of a good time tends to revolve less around getting slaughtered which results in a far more relaxed holiday ambience. Tourism is an important industry in Formentera, especially in Es Pujols, however, developers are sympathetic to the aesthetic beauty of the island and it is relatively easy to avoid the more touristy areas if your heart so desires.
The main thing to do in Formentera is relax. With only one club and a splattering of bars, it is the perfect destination if you want to get away from it all, enjoy good food, clear waters, long sandy beaches and pretty pine forests. Sound like your cup of tea? Travel to Formentera and experience it for yourself.
Travel to Formentera: Highlights
Beaches - You cannot beat Formentera's beaches if you're looking for a little dose of the Caribbean in Europe. The island's boho 'anything go's' attitude is commonplace in Formentera's beach culture and many people sunbathe in the nude all over the island. For a natural facial head to the Illa S'Espalmador, a miniature islet just off the island. Totally uninhabited you can truly make the most of uncommercialised beach life here and bathe in the mud baths if you feel like revitalising your skin. Just back on Formentera's mainland you can also revel in the gogreous stretches of white sand that characterise Platja de ses Illetes and Platja de Llevant. Heading down south you will find another great collection of beaches known as the Platja de Migjorn. For amenities, hotels and a bit more commercialisation head to the east or western points of the bay. Stick in the middle and sip a cocktail at the beach Bar if you want to keep things au naturale.
Peace Out - Just as the hippies hit Ibiza in the 60's, Formentera also became a hotspot for flower power and boho collectives. Unlike Ibiza however, Formentera continues to thrive in this way (and not just for the benefit of the tourists). This laid back mentality is addictive and the best way to enjoy travelling to Formentera is to take a leaf out the hippies book and chill.
The Great Outdoors - Formentera is an easily manageable, almost entirely flat terrain and it is perfect for exploring by bike. Numerous places hire scooters and bikes out and it is a much greener option than hiring a car (spanning only 20km from east to west means that's hardly worth doing anyway). Cylcing is a great way to get out there and discover hidden beaches and isolated corners of the island. Also, the perfect coastline offers some photo-worthy views making Formentera a great place to walk around. You won't get the same kind of testing hikes as in Ibiza or Mallorca but nonetheless, it is a pleasant way to spend an afternoon.
Sant Francesc Xavier - The capital of Formentera, this attractive town is overflowing with picture perfect white washed houses and great traditional little eateries. Located 4km inland, it is a good place to explore if you fancy getting away from the beaches and soaking up the laid back vibe in the most relaxed urban centre known to man. The 18th century fortress and 14th century chapel are worth taking a peek at too.