If you enjoy the freedom that driving gives you then why not consider car hire in Ibiza? There is plenty of choice regarding car rental firms in Ibiza and roads are safe and well signed making it a relatively easy destination to navigate your way round.
A plethora of car hire companies operate around the island with a large choice of vehicles. Whilst most of the larger companies operate from Ibiza airport (very close to Ibiza Town), several have offices in other parts of the island which is worth bearing in mind if you want to pick up and drop off your vehicle at different locations.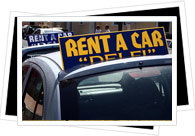 Car hire in Ibiza is a popular choice with visitors to the island, so you'll do well to book in advance - especially if you are visiting during the summer months. All the larger car rental companies have websites where you can often get a discount by booking ahead, also, this means that everything is organised before you even arrive and you'll be free to get behind the wheel as soon as you land!
Check out the following reputable companies for car hire in Ibiza:
Alamo
Ibiza Airport
www.alamo.com
Avis
Ibiza Airport, Santa Eularia , San Antonio de Portmany, Ibiza des Cana, Portinatx
www.avis.co.uk
Europcar
Ibiza Airport, Santa Eularia
www.europcar.com
Hertz
Ibiza Airport
www.hertz.com
National
Ibiza Airport
www.nationalcar.com
PepeCar
Two locations close to Ibiza Airport
www.pepecar.com
Travel Depot
Ibiza Airport, Jose ma Cuadrado, San Antonio de Portmany, Santa Eularia
www.traveldepot.co.uk
Car Hire in Ibiza: Safety precautions for driving in Spain.
Make yourself familiar with the Spanish driving laws before you get to Ibiza . British and Australian drivers take time to adapt to driving on the right hand side of the road!
Spanish national fiestas see a huge influx of people taking to the roads which is when the most road accidents occur in Spain, so take extra care on these days.
Obviously, drink driving is illegal but the limits are especially low in Spain - 0.5 mg of alcohol per millilitre of blood.
Speeding can result in on the spot fining so get used to the speed limits:
Motorways: 120 km/ hour
Open Road: 90-100 km/ hour
Town: 50 km/ hour