The second biggest Balearic Island is the beautiful, tranquil haven of Menorca. You can reach it in an hour by ferry from the island of Mallorca and it is a must see if you are planning on hopping around the Balearics. You can also fly from Ibiza to Menorca with Iberia or Air Europa, however, this often involves stopping over and can be quite pricey.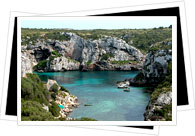 Of all the Balearic Islands, Menorca is the least developed and the second largest, meaning that finding an isolated spot isn't too hard, even in mid-summer. The island is home to some stunning scenery and its slightly wetter climate means that fields and forests stay verdant and luscious looking. There is also over 200km² of rugged coastline to explore and some carefully preserved cities. The real beauty of Menorca is that over 40% is protected by UNESCO as a Biosphere Reserve which ensures that Menorca will continue to be a unique destination in the mediterranean that won't succumb to the effects of mass tourism any time soon.
Travel to Menorca: Highlights
Beaches - If you want to discover hidden coves and isolated beaches then head north and explore the most stunning part of Menorca's coastline. You will find craggy cliff faces, clear waters and sandy beaches to relax on, the perfect setting to collect you thoughts and gaze out to sea. Hiring a bike is one of the most pleasant ways to get about and escape the other holidaymakers.
Maó - Capital of the island since 1713 when the British decided to move it there, Maó's mish-mashed past is documented in the eclectic architecture which lines its streets. An interesting mixture of Georgian houses and modern Spanish offerings gives the Menorcan capital a touch of originality not found anywhere else in the archipelago. The city is also home to some good museums, pretty plazas, nice churches and a buzzy bar and restaurant scene down by the harbour.
Monte Toro - If you want to get some dazzling views of the island and take some holiday snaps worth framing then head to Menorca's highest point, in the centre of the island. It's a 3.2km climb to the top of Monte Toro where pilgrims used to flock year in and year out to the majestic monastery that blessed its summit. Today, you can explore part of the convent which still stands there, but above all this spot is best for sitting back and enjoying the view.
Ciutadella - The original capital of Menorca, Ciutadella reined until 1722 and acts as a carefully preserved example of the Spanish influence on the island. Unlike Maó, Ciutadella does not showcase British architecture, but rather, a huge collection of exquisite colonial style mansions.
Talatí de Dalt - Archeologists have been baffled by Menorca for many a year. They are unsure of much of the island's early history and have never been able to work out the function of a series of unusual structures found all over the island. T-shaped Taulas and cone shaped Talayots stll remain in various locations on Menorca but the reason for them being there cannot be deciphered. Initially they were considered to be watchtowers but this opinion has not been proved entirely. You can see an impressive example of these in Talatí de Dalt where an enormous Taula and Talayot are enclosed by the remains of a wall in a beautiful area filled with olive trees.