Ibiza is one of Europe's hotspots for having fun in the sun and the weather is great year round. Whilst masses of sun worshippers and water babies hit the beaches in the scorching summer months, the warm winter days are equally as agreeable for those in search of sun without the burn, and beaches without the influx of sunbathers.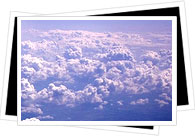 The summer season sees the hottest Ibiza weather and the lowest rainfall. May and October tend to sit very comfortably in the mid 20's (°C). Temperatures rocket between June and September, hitting the high 20's and 30's. The long sunny days and warm waters during the summer is the weather which attracts so many foreigners to the island who pass the time by living it up all night in the top Ibiza clubs and chilling out by day on the beaches. There is never a dull moment during Ibiza's buzzing summer months, however, it is also near impossible to find a solitary spot to unwind alone, so make sure you're ready for fun, sun and company.
Winter weather in Ibiza never comes close to the bitterly cold days and frosty nights that you and I may associate with winter. In actual fact, between the months of November and April, blue skies continue to abound and temperatures regularly hit 16°C and very rarely fall below 6 °C. However, after the madness that is the Ibizan summer, things tend to close up during the winter and it is the locals who enjoy the weather in Ibiza during this period. If you're looking for a relaxed break on empty beaches and a good dose of winter sun then this may be the perfect time to visit Ibiza.
Rainfall is minimal in Ibiza and the island is famed for having 300 days of sun each year. November-April sees more rain than the summer months, however, rain rarely falls for more than a couple of days at a time and is highly unlikely to tarnish your whole holiday.
Get a fix on the weather in Ibiza with our chart detailing average monthly highs and lows:
| | | |
| --- | --- | --- |
| Month | Highs °C / °F | Lows °C / °F |
| January | 13 / 55 | 4 / 39 |
| February | 14 / 57 | 5 / 41 |
| March | 16 / 60 | 8 / 46 |
| April | 17 / 62 | 9 / 48 |
| May | 20 / 68 | 13 / 55 |
| June | 24 / 75 | 16 / 60 |
| July | 27 / 80 | 19 / 66 |
| August | 28 / 82 | 19 / 66 |
| September | 26 / 79 | 18 / 64 |
| October | 21 / 70 | 13 / 55 |
| November | 17 / 62 | 8 / 46 |
| December | 14 / 57 | 7 / 44 |