Writing a (relatively short) list of the top Ibiza clubs is not an easy task, believe you me. Ibiza clubbing just gets bigger and more extraordinary every summer, transforming itself into a mecca for those in search of a good time. The choice of clubs is endless and the variety within each one is more than you find in the average town! These are not normal clubs, these are the world's most notorious Superclubs and whilst new ones keep popping up, golden oldies like Pacha and Amnesia do not fall from favour but instead keep adding new facilities and attractions. Ibiza clubbing is most certainly not for the faint hearted, so get your energies up and get ready for the party of your life.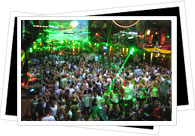 Every year sees the hottest dj's on the international circuit kicking up a storm in the world's most infamous club nights. Therefore, you need to choose the music, dj and promoter you want to see and find out what clubs it corresponds to and which night. And you may have a hard time choosing. Every mega club night imaginable from Manumission, Kissdafunk, Twice as Nice and Ministry of Sound to Cream, Release Yourself, Garlands and Gatecrasher can be found doing the rounds in Ibiza's top clubs. Hundreds of PR reps hand out flyers around Ibiza's bars during the evenings to promote the various events - this is the best moment to try and pick up discounted entry. If you know where you're going it's worth buying tickets in advance but expect to pay between €30-€60 for entry to clubs and between €8-€12 per drink when you get inside.
Check out our lowdown of the top Ibiza clubs... now you just need to choose which one to start with!
Amnesia
Opened in 1976, Amnesia is one of Ibiza's oldest clubs. It used to be an open air beauty but now you can dance the night away on the 'terrace' which is actually encapsulated in glass. One of the hottest sound systems on the island, you will find a fair amount of techno and house being busted out in Amnesia.
Located between Ibiza Town and San Antonio de Portmany
Address: Carretera Ibiza a San Antonio a 5km, 07800
Tel: (0034) 971 198 041
www.amnesia.es (you must register to use website)
Eden
A recent addition to the San An club circuit, Eden is yet to become as legendary as other top Ibiza clubs, but we believe it has potential. With room for some 5,000 gyrating bodies, there is plenty of atmosphere. With respect to music, Eden has not stuck to one style enough to get a reputation, so check the flyers to see what's on.
Located in San Antonio de Portmany
Address: C/Salvador Espriu, 07820
Tel: (0034) 971 803 240
www.edenibiza.com
El Divino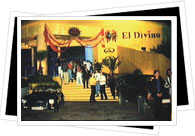 One of the newer haunts in the Ibiza club scene, El Divino was opened in 1992 as Ibiza's most exclusive club. Whilst it does now welcome non-VIPs, its small capacity (in Ibiza terms) of 1500 means it's a good choice if you're looking for a (slightly) less raucous experience. El Divino is definitely a hotspot for dancing the night away to some classic house tunes.
Located in San Antonio de Portmany
Address: Passeig Joan Carlos I. 07800
Tel: (0034) 971 318 338
www.eldivino-ibiza.com
Es Paradis
An Ibiza old timer, Es Paradis has proudly blessed the San Antonio harbour since 1975 and continues to be one of the top Ibiza clubs. Playing the most varied selection of music in Ibiza, Es Paradis made San Antonio what it is today. Whilst it is not the trendiest spot on the island and its fake Roman-esque interior makes you feel like you should've worn your best toga for the evening, Es Paradis is filled with a fun loving crowd and you are guaranteed a good time.
Located in San Antonio de Portmany
Address: C/Salvador Espriu 2, 07820
Tel: (0034) 971 346 600
www.esparadis.com
Pacha
Undoubtedly the top Ibiza club, Pacha was the island's first ever discotheque and should be on everyone's holiday itinerary. Follow the link for more information on Pacha Ibiza.
Located in Ibiza Town
Address: Avenida 8 de Agosto, 07800
Tel: (0034) 971 313 612
www.pacha.com
Privilege
Privilege was opened in 1978 under the name of Ku when it worked in close competition with the island's earliest clubs. As Pacha had already popularised Ibiza Town and had brought San Antonio fame and fortune, Privilege (or Ku) joined Amnesia on the road between the island's two focal points, giving clubbers another reason to stop between towns. Privilege prides itself on being the world's largest club and with 20 bars, a pool and space for 10,000 people we don't doubt that claim for a second. Probably the only club to have a map at the entrance, it is easy to get lost in Privilege, but even if you do you are sure to stumble upon something cool as you wander around, be it a swimming pool or the club's very own live music venue. You need to be into your hard, serious clubbing music to get the most out of Privilege as most nights showcase some of the world's top trance or techno DJ's.
Located between Ibiza Town and San Antonio de Portmany.
Address: C/Ibiza, 07800
Tel: (0034) 971 198 160
www.privilegeibiza.com
Space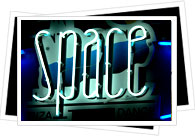 In the grand scheme of Ibiza clubs, Space was a late arrival. Nonetheless, after opening in 1989 the club shot to super stardom by offering clubbers something they had never had before - daytime partying in Ibiza. Space began by opening in the mornings and offering true party animals the chance to dance all day. The infamous terrace meant you could still make the most of the sun and it is now home to one of the world's fattest sound systems. But dancing all day wasn't enough for some people and Space discovered that to comply with Spanish law they only had to close for two hours a day. This discovery gave rise to the birth of 22 hour clubbing for the real hardcore ravers. You can expect to hear a mixture of music at Space, from funky house on the terrace to techno tunes inside. Space's opening and closing parties are must-sees and no trip to Ibiza is complete without a visit to Space on a Sunday.
Located near to Ibiza Town
Address: Carre Carbo des 2, Platja d'en Bossa
Tel: (0034) 971 315 127
www.space-ibiza.es