Ibiza is one of Spain's most popular destinations and continues to have one of the most thriving property markets in the country. Whilst the Spanish property 'boom' has slowed on the mainland, in particular along the Costa del Sol, the Balearic islands, continue to be one of the hottest spots for buying Spanish property. Year round good weather and a hugely busy tourist industry means that investing in buy-to-rent Ibiza property is a guaranteed winner due to the high demand for holiday lets. Similarly, those who have bought homes have seen a significant rise in property value as Ibiza steadily maintains its popularity.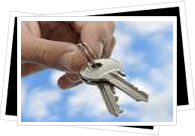 Luxury, luxury and more luxury seems to be the order of the day in Ibiza. Rent luxury villas in Ibiza is for celebrities and the rich and famous the standard for building o renting impressive mansions with every kind of luxurious trimming. For the rest of us, prices are multiplying by up to 300% in some areas and it is becoming increasingly hard to find a plot of land to build your own property on. Villas and apartments with sea views tend to be the hottest investments, which is worth bearing in mind when choosing your Ibiza property.
With a little foresight and some careful investigation you could find yourself a winning property in Ibiza. The southwestern areas of the island between Ibiza Town and the holiday resort of San Antonio de Portmany have been popular for a long time and are the most pricey. However, it may be worth checking out the beautiful northern areas surrounding Portinatx, where an isolated spot isn't so hard to come by and there is a lot more scope for finding less inflated property prices.
Check out this list of reputable Ibiza Real Estate Agents and start the search for your dream Ibiza property.
Ibiza Estate Agents
BBS Consulting
Address: Avenida Cubells 9, apto 164
E-07830, Sant Josep
Tel: (0034) 971 800 705
www.bbs-ibiza.com
Bussard Mediterraneo
C/San Jaime 62
E-07840, Ibiza
Tel: (0034) 971 331 196
www.bussard-ibiza.com
Can Ravell
Address: Can Peter Siesta
E-07840, Santa Eulalia
Tel: (0034) 971 330 626
www.canravell.net
Don Piso Ibiza Town
Address: Passatge Castaní 3
E-07800, Ibiza Town
Tel: (0034) 971 300 270
www.donpiso.com/ibizacentro
Don Piso San Antonio de Portmany
Address: C/Madrid 12, edificio Kabiro, local 2
E-07820, San Antonio de Portmany
Tel: (0034) 971 804 894
www.donpiso.com/sanantonio
Engel Völkers
Address: Avenida Santa Eulalia 17
E-07800, Ibiza Town
Tel: (0034) 971 311 336
Address: Calle Carlos V 12, local 10
E-07800, Ibiza Town
Tel: (0034) 971 193 445
Address: Calle San Jaime 37
E-07840, Santa Eulalia
Tel: (0034) 971 807 180
www.engelvoelkers.es
Ibiza House Shop
Address: Calle San Jaime 45, 1°
E-07840 Ibiza Town
Tel: (0034) 971 303 844
www.ibizahouseshop.com
Ibiza Prestige
Avenida Bartolomé Rosello 1
E-07800, Ibiza Town
Tel: (0034) 971 190 455
www.ibizaprestige.com
Lider Casa

Address: Calle Via Punica 21 bajo
E-07800, Ibiza Town
Tel: (0034) 971 303 844
www.lidercasa.com
If you've got your heart set on investing in an Ibiza property then check out our Spanish Mortgage advice so you can get the ball rolling as soon as possible.