Not sure where to start in Ibiza? Our island guide breaks Ibiza up into four main chunks, centred around the main cities. We've sussed out the vibe in each place so you can plan your holiday around what you want - be it clubbing, relaxing, family fun or romantic escapes - Ibiza will have something to suit your needs.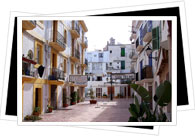 Use our Ibiza island guide for the city hotspots and to see what's on offer in the surrounding areas.
Just click on the following links and get exploring Ibiza!