What we have already seen throughout this guide is that there is much, much more to Ibiza than just clubs and clubbers. Nonetheless, the little island's rise to fame as a global dance capital cannot be ignored, nor can the fact that the evolution of important contemporary musical genres occured within its bars and clubs. Ibiza dance music is an eclectic and exciting topic which attracts and inspires the world's best dj's and music fanatics year in and year out. We take a look at Ibiza's journey to becoming the world's most coveted clubbing destination and find out what it is that makes Ibiza such a special place to party...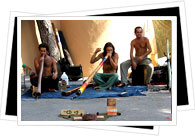 It all began in the 1960's when 'the hippies' arrived on the island. Still a prominent feature today, surviving hippies in Ibiza cash in with their markets (see Ibiza shopping for details) and thrill tourists by banging their bongos on beaches at sunset. Originally these wanderers with long hair hailed from the U.S and brought with them musical styles that hadn't yet reached Spain. Francisco Franco was in power until 1975 and attempted to prohibit the importation of foreign bands. Nonetheless, Ibiza blossomed as an innovative home for music and the word began to spread. Trendsetters and music buffs headed to Ibiza to host enormous parties on farms in the countryside, which gave rise to a huge amount of musical productivity and freedom.
Ibiza's fate was really sealed when Pacha Ibiza opened in 1973. Finally, the partiers had a proper place to do their thing. By the time Franco's dictatorship ended the word was out. The island's first superclub attracted budding acts from all over the world and its insane popularity gave rise to more clubs, namely Amnesia and Es Paradis. All of these clubs continue going strong today, see top Ibiza clubs for the scoop on these legendary Ibiza hotspots and more.
Free from Franco's laws, the end of the 70's and right into the 80's Ibiza became a playground for musical experimentation. Its global reputation meant that Ibiza was visited by people from all over the world, each bringing with them the trends from their own hometowns. Things weren't necessarily new in Ibiza, what was exciting was the emergence of a space where musical styles from far flung parts of the world were put in close contact with each other, allowing ideas to spread and develop.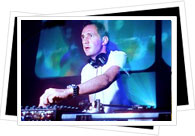 During the 1990's Ibiza became inextricably linked to the development of the electronic dance revolution. Rave culture, drugs and 24 hour parties backed by the soundtrack of synthesised beats that just have to be danced to made clubbers flock to Ibiza. Dance music cannot be polarised, but rather it describes a plethora of categories and sub-categories that have continued to gain popularity over the last 3 decades. In particular, House music has gone from strength to strength and Ibiza has played a huge role in making it accesible to more people.
What Ibiza has come to represent is an area where music can evolve. Many people try to label it as the birth place of certain genres, but this is a controversial idea to push. In my opinion, Ibiza has become a liberal space within which different styles can fuse and develop - especially dance music and all its sub-genres. As well as becoming the crème de la crème for any famous DJ to play at, Ibiza is an eclectic platform with the power to make or break the career of any new DJ.
What many people have always loved about Ibiza is that such a huge variety of music can be heard there and this is no less true today than it was forty years ago. Ibiza has become such a popular destination that clubs dedicate rooms to totally different musical styles from latin and garage to r'n'b and hip hop. It has even been said that 2008 will see the likes of brit indie rock band the Kaiser Chiefs performing in Ibiza.
Whilst noone can predict the future of Ibiza dance music, we can be sure that it will continue to develop, evolve and thrive between the bars and clubs of this very special island.