If you're looking for a nice cold cocktail on a warm summer's night you will never be far from an Ibiza bar. As well as the cosy locales characteristic all over Spain, Ibiza is also home to some of the world's most famous bars. We've got the lowdown on all the best Ibiza bars so you don't miss a thing!
Ibiza Bar Guide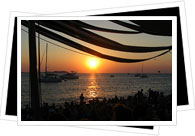 In Ibiza Town you will find a whole host of good bars and the Sa Penya district is generally where it's at. Make sure you dedicate some time to exploring the Carrer de Barcelona, Carrer de Garijo Cipriano and the Plaça des Parc, where the bars are plentiful.
Bliss
One of the most atmospheric spots on the plaza, definitely worth stopping off at.
Address: Plaça des Parc
Bar Mambo
Not to be confused with San An's legendary Café Mambo, this cool bar is not as famous but a great place to kick start your night at.
Address: Carrer de Garijo Cipriano 10
Lola's Club
One of Ibiza's original hotspots from the 80's, Lola's club has been revamped and renovated ready for the 21st century.
Address: Vía de Alfonso XII 10
Dôme
Classy drinkery ever popular with Ibiza's gay scene.
Address: Via de Alfonso XII 5
Bora Bora
Just outside Ibiza Town, this is undoubtedly the island's most famous beach bar. Open all day andwell into the night you can party to your heart's content at the same time as sunbathing and taking a dip.
Address: Platja d'en Bossa
The other hotspot for Ibiza bars is San Antonio de Portmany and the town's infamous Sunset Strip. Follow the hoards of cocktail lovers and grab yourself a spot on the terrace of one of the island's best bars. This is undoubtedly the place to get your party started with a collection of party loving companions. Most of the bars open mid afternoon and close around 4am when the clubs start hotting up.
Café del Mar
Need we even give a description of this world famous drinkery? Attracting the best DJ's, giving rise to an amazing CD collection and maintaining its reputation as the home of chill-out, no trip to Ibiza would be complete without stopping in Café del Mar.
Address: Calle de Vara del Rey
Tel: (0034) 971 342 516
www.cafedelmarmusic.com
Café Mambo
This is the hotspot for the Pacha pre-club party and a must if you are doing the rounds along the sunset strip.
Tel: (0034) 971 346 638
www.cafemamboibiza.com
Savannah Café
Another great spot to kick start your night with a party loving crowd.
Address: Carrer del General Balanzat 38
Tel: (0034) 971 348 031