San Antonio Ibiza: Highlights
Sunset Strip
If you want to kick back and relax after a hard day of sunning yourself, San Antonio's "Sunset Strip" is the place to do it. In recent years there has been some effort to shift the town's cheap and cheerful reputation and little by little the Irish pubs are coming second to nicely designed chill out lounges (not to worry if you're a fan of the Guinness, though - there is still no shortage of Irish pubs in San An).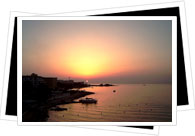 The sunset strip is located on the north side of the town and many of the bars open mid afternoon so by the evening they can be packed full. Here you will find some of the island's most infamous pre-club bars including the legendary Café del Mar. Take a peek at our
Ibiza Bar
guide for more information.
Beaches

San Antonio's new beach was developed by the town council in 2002 and is extremely conveniently located right in front of some of the city's biggest hotels. It has white sand and clear, safe water for swimming in, however, you may have to fight to find yourself a space because it tends to be the first port of call for the majority of San An's visitors. If you're in search of something a bit more peaceful (and not man-made) San Antonio, Ibiza is only a short bus ride from some great little coves and bays tucked away in truly beautiful surroundings. Read our
Ibiza beach
review for the top spots to catch some rays.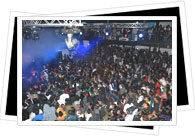 Nightlife
San Antonio, Ibiza was made for and by its nightlife. This was where the Ibiza party revolution began and continues to live on every summer. The island's most extravagant Super Clubs are found here, and they fight an ongoing battle as to which is the most extravagant. Whether they offer the most impressive looking venues (think glass domes, laser shows and pyramids), the largest number of bars (we're talking up to 20 in one club), the most exciting facilities (fountains, swimming pools...) or the world's best dj's, the clubs which surround Ibiza's San Antonio are undoubtedly among the world's most flamboyant. Check out our
Top Ibiza Clubs
guide for a run down on what each one has on offer.