Ibiza Surfing, Windsurfing and Sailing
The truth be known, a gentle bit of sailing is easier to come by in Ibiza than some hardcore surfing or windsurfing. Nonetheless, if that's what you're after you can find it, you just need to look in the right places at the right time of year.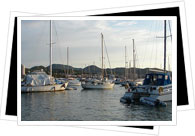 Ibiza Surfing and Windsurfing
Complete beginners can happily get started during the scorching summer months, however, the lack of much wind means that advanced surfers and windsurfers will feel limited during the Ibizan summer.
Those with more experience of catching some waves should head to Ibiza at the start or end of the summer (April/May, September/October) if they want to be tested. The best spots are Playa d'en Bossa (Ibiza Town), Cala Martina (Santa Eularia) and Las Playas de Comte (San Antonio de Portmany).
Ibiza Sailing
Sailing in Ibiza is a more feasible year-round option and the best spots where you can also hire equipment / take classes are Playa d'en Bossa (Ibiza Town), Ses Salines and San Antonio de Portmany.
Ibiza Surfing, Windsurfing and Sailing Schools
Anfibios
Edificio Acapulco, Playa d'en Bossa, Ibiza Town
Tel: (0034) 971303915
www.anfibios.com
Ibiza Sailing School
Petunias 36, Santa Eularia
Tel: (0034) 971 319 023
Julian's Windsurfing & Sailing
Playa Arenal, San Antonio de Portmany
Naútica Viamar S.L
Varadero Marina Botafoch, local 4, 07800
Tel: (0034) 971 190 211
www.viamar-ibiza.com