Ibiza City: The Best Bits
D'Alt Vila (Ibiza Old Town)
This beautifully maintained historic part of Ibiza city sits majestically in an elevated position overlooking the glorious coastline. So when you have seen all the old town has to offer, you can sit back and take in the extraordinary views filled with mediterranean delights. The town itself is surrounded by sturdy 16th century walls. Once inside you can wander the miniature cobbled streets which ramble in and out of each other leading to plaza upon pretty plaza packed with laid back eat and drinkeries. You can also visit the beautiful sand coloured Catedral de Santa María which has the best views on the whole island, or enjoy a good handful of interesting museums. And no matter how popular Ibiza is, this little chunk of Spanish colonial tradition will not fall prey to the developers since UNESCO named it a world heritage site in 1999.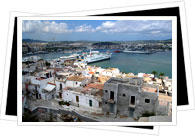 Plaça de la Vila (Ibiza Old Town)
This lively cultural hub is nestled in the heart of Ibiza City's D'Alt Vila. Whether you're looking for a place to have a morning coffee, an afternoon rest or an evening aperitif this little gem of a square is packed with attractive restaurants, chilled out bars and pretty cafes to relax in.
Sa Penya (Ibiza New Town)
If you're looking for action then this is where it's at in Ibiza city - promenade to your heart's content, people watch, enjoy good restaurants and start your investigation of Ibiza city's bars right here! This is also the place to head for some serious Ibiza shopping. The dress code tends to be less is best here so don't be afraid to don your tiniest bikini or go out for the night in nothing more than shorts.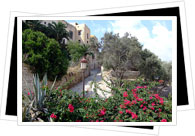 Beaches
Ibiza city has a whole host of beaches to choose from, some which are literally in the city and some a short bus ride away. It just depends whether you want to party in the sun or find a secluded spot to catch some rays. Those in search of the latter option should get down to Talamanca - touted as a good place for families, this beach doesn't get too crammed. Other nearby hangouts are Platja d'en Bossa and Figueretes - head here if you're more interested in beach bars than vistas. Ibiza City's best beach in terms of fun and attractiveness is undoubtedly Ses Salines. Check out our Ibiza Beach guide for more information.
Nightlife
Between June and October Ibiza City transforms into the place to be and planes are filled with hoards of clubbers ready to live it up on their week long summer holidays. The streets of the new town are lined with PR people eagerly handing out deal tickets for different clubs and party people can be found at all times of the day and night. Right in Ibiza city, as well as on the outskirts, you will find some of the island's most infamous clubs. So if U.V paint and glow sticks float your boat and you're not adverse to wearing a pair of sunglasses indoors, take a peek at our Ibiza Nightlife guide and get ready to party...