Best Ibiza Beaches...for Relaxing
If you're looking for a secluded sandy spot or an uncommercialised bit of coastline you need to get out of the big resorts in Ibiza. However, that does not mean to say that they are necessarily miles away from where you might be staying - in fact, nothing is too far away in Ibiza. With a hire car or a local bus service, you can get away from the masses in half an hour. We've got the lowdown on the best Ibiza beaches for taking the kids or truly chilling out, so sit back, have a read, and prepare to relax...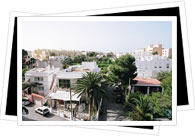 Talamanca
Just a tiny bit further up the coast from Ibiza town, this is a perfectly located beach if you want to escape the clubbers and the bars which are commonplace on most of the other beaches in the area. Talamanca is popular with families and is not a secret getaway, however, it is a safe, accesible, sandy option for some relaxed beach action.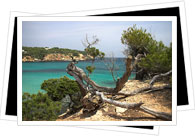 Cala Llenya
This little cove is a favourite with locals and is located just up from the Santa Eularia resort. There is a mixture of sand and rocks at this untouched and attractive spot. Not so highly recommended for young children, but it's perfect for couples or groups of friends looking for a bit of peace and quiet.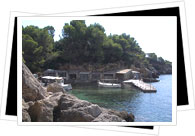 Cala Mastella
Another chilled out beach within easy striking distance from Santa Eularia, Cala Mastella is an idyllic spot especially for those who like snorkelling. Amenitites are few and far between here, so bring your own lunch! There is an infamous fish restaurant in the cove (make sure you reserve in person the day before you plan to eat there).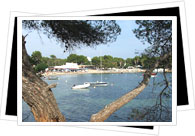 Cala Pada
A cute, sandy beach just a stone's throw from Santa Eularia, Cala Pada is recommended for those in search of a totally untouched little gem of a beach.Niu Blau
This great sandy beach is a beautiful, tranquil place to spend the days and is easily accesible from Santa Eularia, however, after the sun goes down it often springs into action with beach parties. This reputation means it tends to attract a younger crowd.
Cala Moli
If you're based at San Antonio de Portmany and want to escape the noise of the city, this is a perfect choice. You need a car to get here and it's a bit tricky to find so is only recommended to those who are confident on the roads. However, this means that is never gets too packed which is what keeps it so special.
Cala Salada
This is another popular choice with clubbed out clubbers and families alike. The secret is out and this cove does get pretty full during the summer months so it isn't an isolated option, nonetheless, it has a nice chilled out vibe and feels very safe. Cala Salada is just north of San Antonio de Portmany and whilst the main beach is generally busy, the northern cove is a lot quieter.
Benirrás
This incredible beach manages to enchant all types of people. It doesn't get too busy during the day when families and friends come to enjoy the beautiful surroundings and nice water. At sunset it is famous for attracting hippies who bang on their bongos into the night, attracting those who want to wile away their evening in an extremely relaxed fashion. Benirrás is most easily accesible from San Miguel inland and Portinatx along the coast.
Cala Xuclar
Located a tiny way west from Portinatx, Cala Xuclar is undoubtedly one of the best Ibiza beaches for enjoying some beautiful scenery without too much company. The beach tends to attract locals but it is suitable for everyone, just be warned there are not many facilities here so come prepared!
Cala Xarraca
Right next to Xuclar you will find another perfect little cove to explore - Cala Xarraca makes a great getaway from Portinatx. There are more pebbles than sand, but there is some great snorkelling to be had here and a lovely day out for everyone.
Looking for a bit more action? We've got the lowdown on the top Ibiza beaches for partying if you feel like letting your hair down.