Top Ibiza Beaches... for Partying
If you're not worn out by the crazy Ibiza nightlife you may be in search of a place to party by day. The beaches are most definitely where it's at in Ibiza and while they are often a lot quieter during the winter, if you're there for the madness of an Ibizan summer you'll have a huge choice of pumping beachside parties to enjoy in the sun. We've done a reccy to find you the top Ibiza beaches for partying so that you can be sure to end up where the music is blaring and everyone is there to have a good time.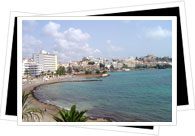 Platja d'en Bossa
Ibiza's most famous party beach takes traditional beach bars to a new level. Home to the infamous Space (see Top Ibiza Clubs for more information) and Bora Bora bar, Platja d'en Bossa is the place for danceaholics. We're talking serious, hardcore partying 24 hours a day. Not for the fainthearted!
Figueretes
Ibiza Town's most conveniently located beach is not the world's prettiest beach but is a popular spot with tons of beach bars and a constant buzz all summer long.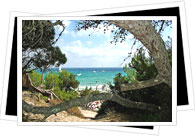 Salines
Touted as the top Ibiza beach, Ses Salines is an attractive place to spend the day with clean water and perfect white sand. It has also become the place to be seen on the island and is definitely worth a little excursion south of Ibiza Town. The partying is not as manic as on Platja d'en Bossa, making it the perfect spot to perfect your tan, sip a cocktail and mingle with the beautiful people whilst the DJ pumps out laid back tunes.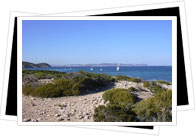 Playa d'es Cavallet
Very popular with gay visitors, this rugged and wild looking sandy beach is home to some funky beach bars and a lot of nudity. If you're coming from Ibiza Town, Playa d'es Cavallet is just before the turn off for Ses Salines.
San Antonio Beach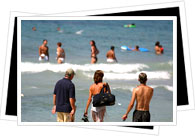 The government's plan to make San Antonio de Portmany more beautiful mainly centred around the creation of a 'perfect' beach right in the centre of the town. The result is white sand, palm trees and a lot of people. Definitely a convenient stop if you're staying in San An, the beach is always lively and is lined with touristy bars and restaurants, however, if you're looking for a more classy affair, we'd reccommend you get out the city.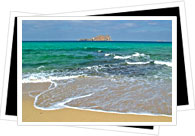 Cala Conta
These beaches just west of San Antonio de Portmany come highly recommended. The motto here is not just party, party, party and many families come to enjoy the nice surroundings. However, the beach is home to some cool beach bars and attracts a trendy, fun loving crowd.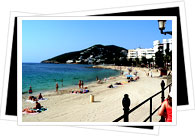 Santa Eularia Beach
As with many of the beaches located in the cities, Santa Eularia beach is a bit of an eyesore, none the less, there are plenty of bars, great watersports and lots of people enjoying sun, sea and fun together.
Niu Blau
Also recommended in our best Ibiza beaches for chilling, Niu Blau strikes the perfec balance. The stunning cove embodies what beaches are all about really - sand, clean water and great sunsets. It is truly relaxed during the day, but at night often hosts some amazing beach parties - perfect if you fancy a change from the clubs. Niu Blau is just a stone's throw (north) from Santa Eularia.
Cala Llonga
One of the hotspots on any clubber's agenda - Cala Llonga is a thriving beach resort minus the slabs of concrete dropped on the likes of San Antonio, making it a prettier place to spend the day. Located just south from Santa Eularia, Cala Llonga is packed with holidaymakers in the summer and has a busy, buzzing vibe and lots of amenities.
Playa Porto, S'arenal Gros, S'arenal Petit
These are the most accesible bays if you are in Portinatx. For a beach resort, they are really pretty and the hotels which surround them have gone some way to not ruin the vistas. In the summer months these beaches are heaving with people - a less party crazed crowd than the island's other resorts, but a fun loving atmosphere all the same.
Benirrás
Just a stone's throw from Portinatx, Cala Benirrás is up there with Ses Salines in Ibiza's top beaches. This is not for hardcore partying but more for those of you that enjoy watching the sunset whilst dancing to the rhythmic patter of bongos. By day this beach is a relaxed, family friendly spot but at sunset the hippies arrive to spread the love (and the beer). A truly perfect way to spend an evening if you want a breather from the mayhem of Ibiza's clubs.
All partied out? We've got the scoop on the best Ibiza beaches for relaxing so you can recover from all that dancing!