Santa Eularia Highlights
Santa Eularia d'es Rui: Old Town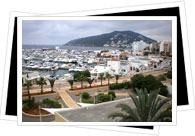 Within all the modern luxuries that much of Ibiza offers it is especially refreshing to stumble across an attractive old town that hasn't been touched by the developers or the big name chains. Santa Eularia d'es Riu boasts a neat and compact little town centre that is an enjoyable place to stroll around. The main attraction is the dainty white washed church built on top of the hilltop. A relic from the sixteenth century, the quaint little church serves to remind us of times past, when Ibiza oozed pure Spanish tradition in every corner.
Beach Life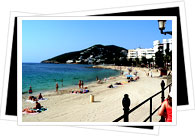 Santa Eularia d'es Riu is surrounded by some of Ibiza's best beaches and is a great place to enjoy safe, seaside fun, get into some watersports or discover some hidden coves. Whatever you're looking for, Santa Eularia is well placed for lots of different beach vibes. The main beach in the town has plenty of activities and is always buzzing with people and plenty of activities. However, for more aesthetically pleasing options hire a car and explore cute little bays like Cala Llenya and Cala Mastella. For more details head to our Ibiza Beach page.
The Good Life
You won't find crazy all night parties in Santa Eularia, however, you will be able to enjoy some of life's little pleasures in a great selection of bars and restaurants. Just make sure you dig deeper than the beach front promenade where quantity and speed take priority over quality. Heading back towards the old town Calle San Vicente is the best spot to get a good meal before enjoying an after dinner drink in one of the numerous choices down Calle San Jaime. Find individual listings in our guide to Ibiza Bar and Ibiza Restaurants.